Electoral Area Boundary Committee Recommendations for County Kilkenny
County Kilkenny
Population and Membership
The present position is as follows:
2006Population
Number ofMembers
Population per Member
 
% Variancefrom CountyAverage
 
 
 
 
 
County Kilkenny
87,558
26
3,368
 
 
Ballyragget
15,417
5
3,083
-8.46
 
Callan
11,096
3
3,699
+9.83
 
Kilkenny
26,501
7
3,786
+1 2.41
 
Piltown
19,1 84
6
3,197
-5.08
 
Thomastown
15,360
5
3,072
-8.79
 
The deviations from the county average range from -8.79% in Thomastown to +1 2.41 % in Kilkenny. Consequently, some reorganisation is necessary to rebalance representation levels.
Analysis
As County Kilkenny is wholly contained in the Dáil constituency of Carlow-Kilkenny,alignment with the Dáil constituency boundaries is already assured.
The Kilkenny electoral area already has the maximum permitted number of seats (7)and its under-representation can only be resolved by transferring out some electoral divisions.
The Callan electoral area is a 3 seater and must be reviewed in line with the terms of reference.
The Committee did not find that there were very exceptional circumstances requiring the preservation of this electoral area as a 3 seater. As it is currently significantly under-represented a relatively minor inward transfer of electoral divisions provides sufficient population to support a fourth seat without resulting in an electoral area which would be disproportionately large. This transfer may appropriately be sought from the Kilkenny electoral area in view of the excess population now obtaining there.
A reallocation of seats would arise following the addition of a seat to the Callan electoral area; and Thomastown as the most over- represented electoral area should be assigned one less seat to make it a 4 seater.
A number of other minor transfers of electoral divisions are also necessary in order to achieve a reasonable level of balance in representation across the entire County.
Recommendations
In order to accommodate the above considerations and rebalance the representation
levels within County Kilkenny, the Committee recommends: -
The transfer of electoral divisions as follows:

1.1. Rathcoole and Tiscoffin (total population 783) from the Thomastown to the Ballyragget electoral area;
1.2. Grange and Outrath (total population 1,546) from the Kilkenny to the Callan electoral area;
1.3. Brownsford and The Rower (total population 876) from the Thomastown to the Piltown electoral area;
1.4. The part (population 8) of the Tubbridbrittan electoral division contained in the Callan electoral area from the Callan to the Ballyragget electoral area.
The redistribution of council seats among the electoral areas as follows:

2.1. Ballyragget 5-seats; Callan 4-seats; Kilkenny 7-seats; Piltown 6-seats; and Thomastown 4-seats.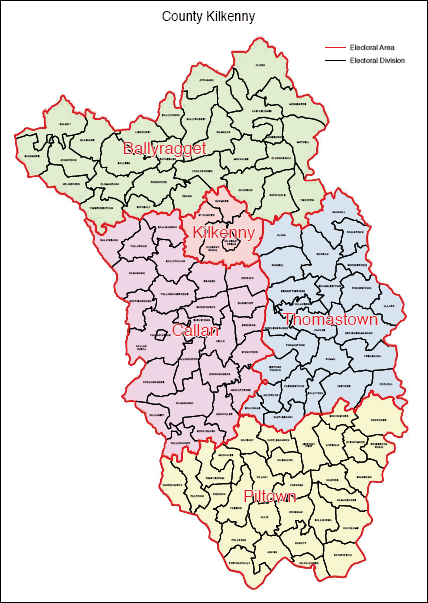 The effect of these recommendations is as follows:
| | | | | |
| --- | --- | --- | --- | --- |
|   | 2006Population | Number ofMembers | Populationper Member | % Variancefrom CountyAverage |
| County Kilkenny | 87,558 | 26 | 3,368 |   |
| Ballyragget | 16,208 | 5 | 3,242 | -3.74 |
| Callan | 12,634 | 4 | 3,159 | -6.21 |
| Kilkenny | 24,955 | 7 | 3,565 | +5.85 |
| Piltown | 20,060 | 6 | 3,343 | -0.74 |
| Thomastown | 13,701 | 4 | 3,425 | +1.69 |
The following is a detailed description of each recommended electoral area:
Ballyragget
The electoral divisions of Attanagh, Balleen, Ballyconra, Ballyragget, Baunmore, Castlecomer, Clogh, Clogharinka, Clomantagh, Coolcraheen, Freshford, Galmoy, Glashare, Johnstown, Kilkieran, Kilmacar, Lisdowney, Moneenroe, Mothell, Muckalee, Odagh, Rathbeagh, Rathcoole, Rathealy, Tiscoffin, Tubbridbrittain, Urlingford.
Callan
The electoral divisions of Aghaviller, Ballinamara, Ballybeagh, Ballycallan, Boolyglass, Burnchurch, Callan Rural, Callan Urban, Coolaghmore, Danesfort, Dunamaggan, Earlstown, Ennisnag, Grange, Kells, Killamery, Kilmaganny, Kilmanagh,Knocktopher,Mallardstown,Tullaghanbrogue, Tullahought, Tullaroan. Outrath, Scotsborough, Stonyford,
Kilkenny
The borough of Kilkenny and the electoral divisions of Dunmore, Kilkenny Rural, St.Canice.
The electoral divisions of Aglish, Ballincrea, Brownsford, Castlegannon, Dunkitt,Dysartmoon, Farnoge, Fiddown, Jerpoint West, Kilbeacon, Kilbride, Kilcolumb, Kilculliheen, Kilkeasy, Killahy, Kilmakevoge, Listerlin, Muckalee, Pilltown, Pollrone, Portnascully, Rathpatrick, Rosbercon Rural, Rossinan, Shanbogh, Templeorum, The Rower, Tubbrid, Ullid, Whitechurch.
Thomastown
The electoral divisions of Ballyhale, Ballyvool, Bennettsbridge, Bramblestown, Castlebanny, Clara, Coolhill, Dunbell, Famma, Freaghana, Goresbridge, Gowran, Graiguenamanagh, Inistioge, Jerpoint Church, Kilfane, Kiltorcan, Paulstown, Pleberstown, Powerstown, Shankill, Thomastown, Tullaherin, Ullard, Woolengrange.