Kilkenny Town & Village Renewal and Rural Regeneration Projects
Kilkenny Town & Village Renewal and Rural Regeneration Projects (Ireland 2040)
Introduction
Welcome to Kilkenny County Councils One Stop Shop for Town & Village Renewal and Rural Regeneration projects in County Kilkenny. As part of this landing page, we have included details on sample projects, national policy and videos showcasing works completed. This page also highlights Town Team Plans from a number of established Town Teams in County Kilkenny. 
The IN FOCUS  on-line magazine below, highlights projects completed and underway in our District Towns and Villages throughout the County, these interactive magazines will hopefully give community groups an idea as to what can be achieved in our Towns and Villages. Over the last three years Kilkenny County Council has been successful in securing significant funding and implementing key projects that are now having a very positive impact on our towns and villages in rural Kilkenny.
 So where does the Funding Come From?
The Rural Regeneration and Development Fund is a commitment of €1 billion by government to be invested in rural Ireland over the period 2019 to 2027.The purpose of the fund is to support job creation in rural areas, address de-population of rural communities and support improvements in our towns and villages with a population of less than 10,000, and outlying areas. Rural towns with a population of over 10,000 people are eligible to apply for funding under the Urban Regeneration and Development Fund.
Please see links to IN FOCUS – e magazines showcasing sample Town & Village Renewal and Rural Regeneration Projects in County Kilkenny.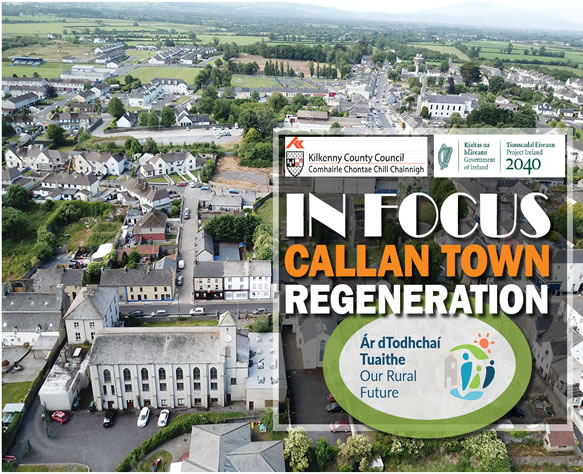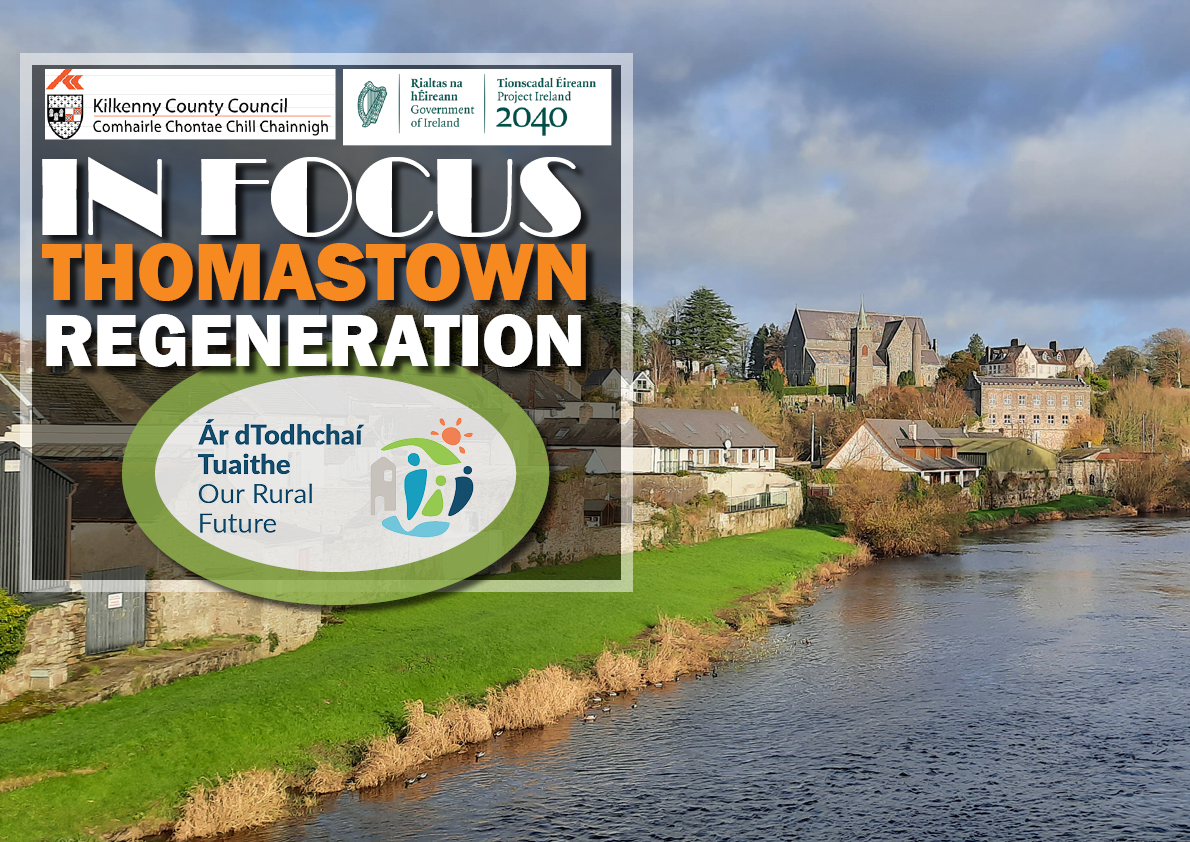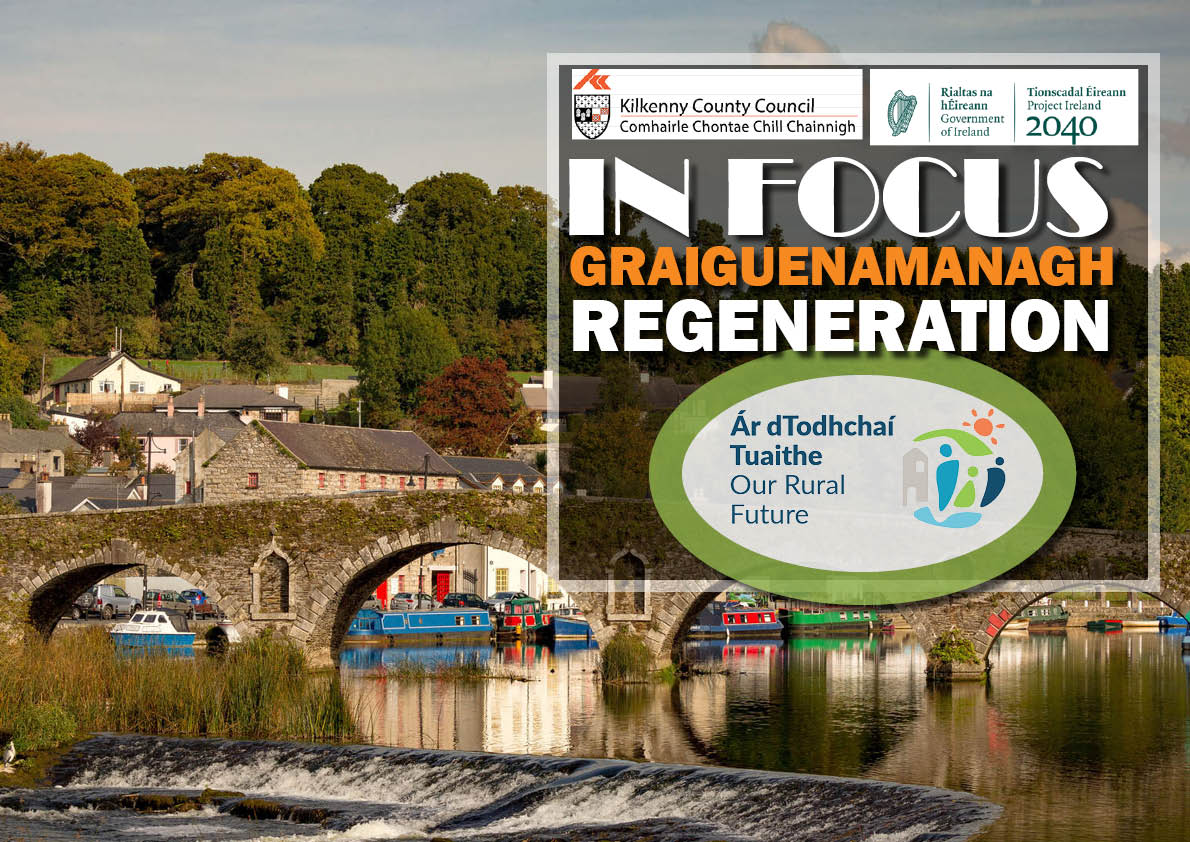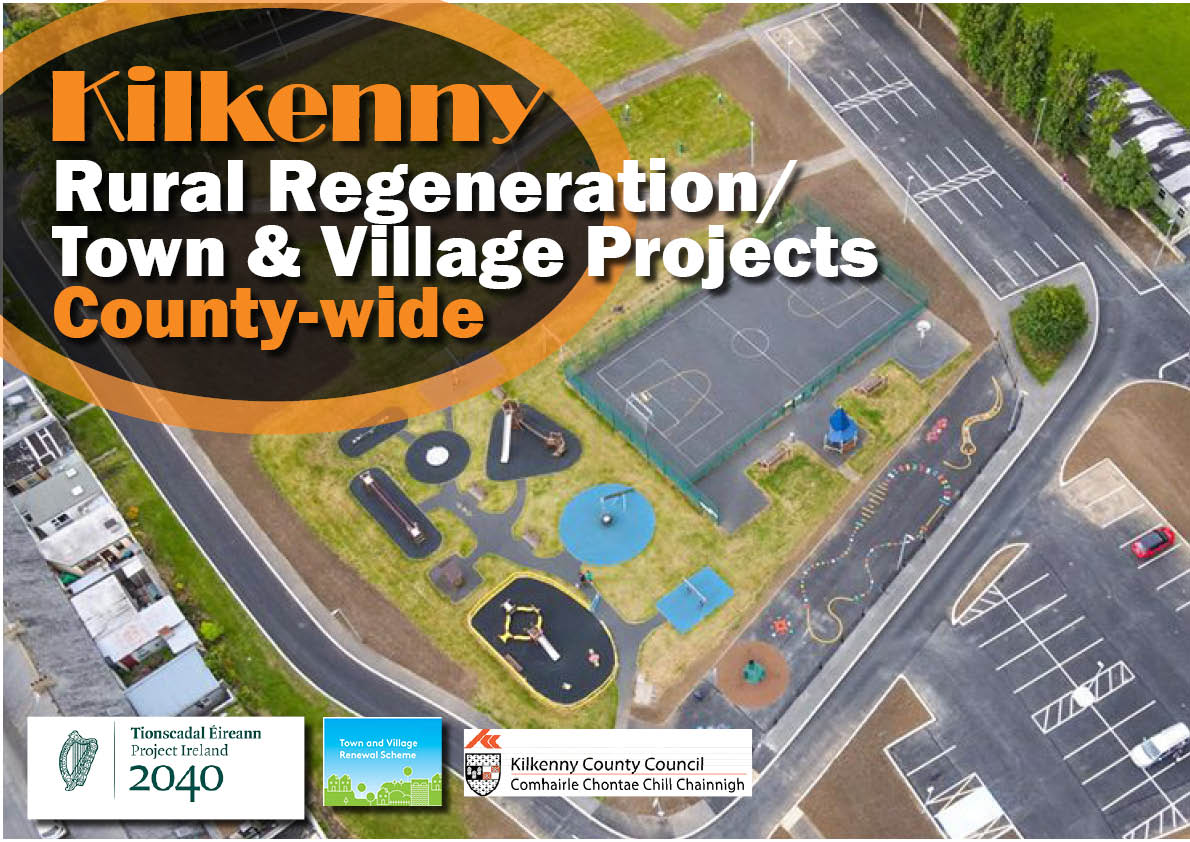 Kilkenny Town Team Plans
Kilkenny County Council were also successful in securing funding under the Town & Village Renewal Scheme to undertake Health Check assessments for a number of Towns & Villages in County Kilkenny.These included Goresbride, Mullinavat, Johnstown, Urlingford, Castlecomer and Thomastown. The completed
Health Checks provide a "stock-take" of the current economic, social, environmental and physical situation relating to the Town or Village in order to assess the vitality and viability of town / village centres. The assessment essentially analyses the strengths and weaknesses of a town / village and is based on a quantitative analysis of factors such as the range and quality of activities in the centre, its mix of uses, its accessibility to people living in the area and its general amenity appearance and safety.
New Town Team plans were then  developed following consultation workshops and information exchanges and input from various sources including various local community interests, visitors and traders. Following a needs assessment, recommendations and actions were identified based on factual findings and community needs and inputs.
The Town Team plans set out a shared vision for the identified towns, a strategy to deliver key objectives, an identification of suitable projects to address economic decline and restore vibrancy. Other areas covered in the plans include projects that will improve the physical and social environment and also the identification
of projects suitable for the Town and Village Renewal/ Rural Regeneration funding streams.
Please click on links below to view the Town Team Plans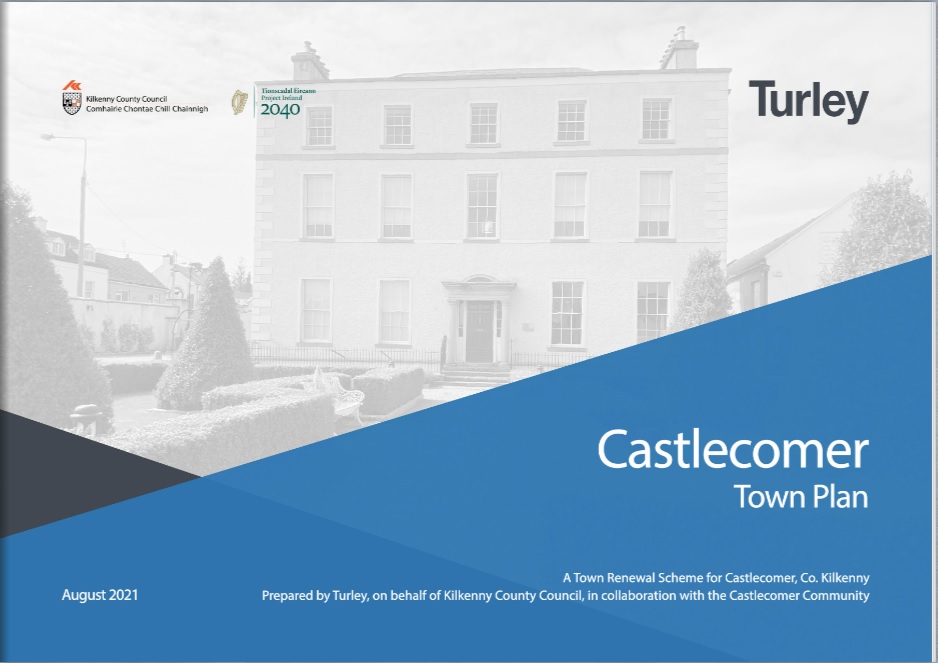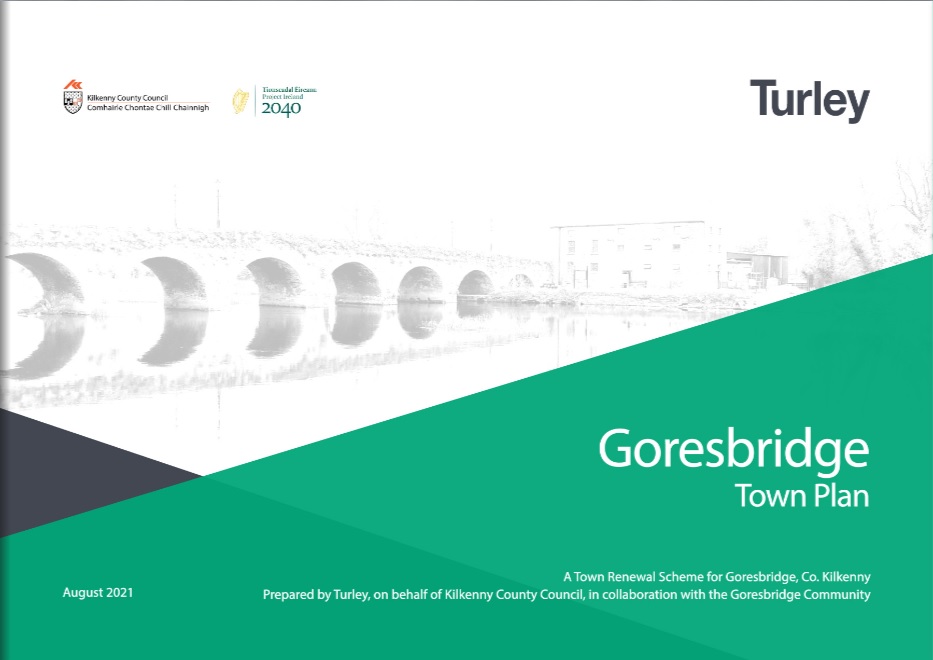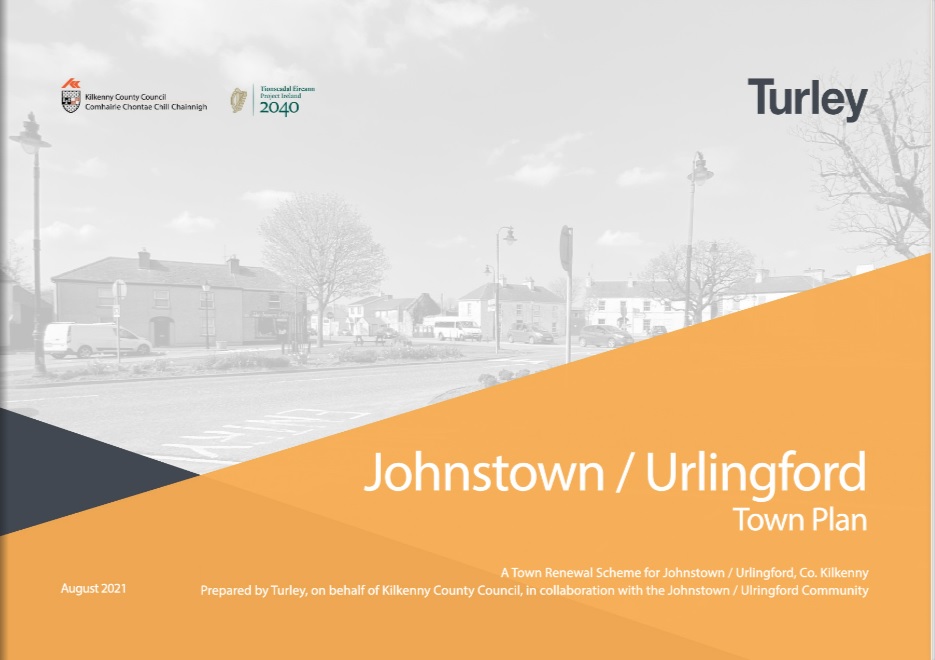 Johnstown-Urlingford Town Plan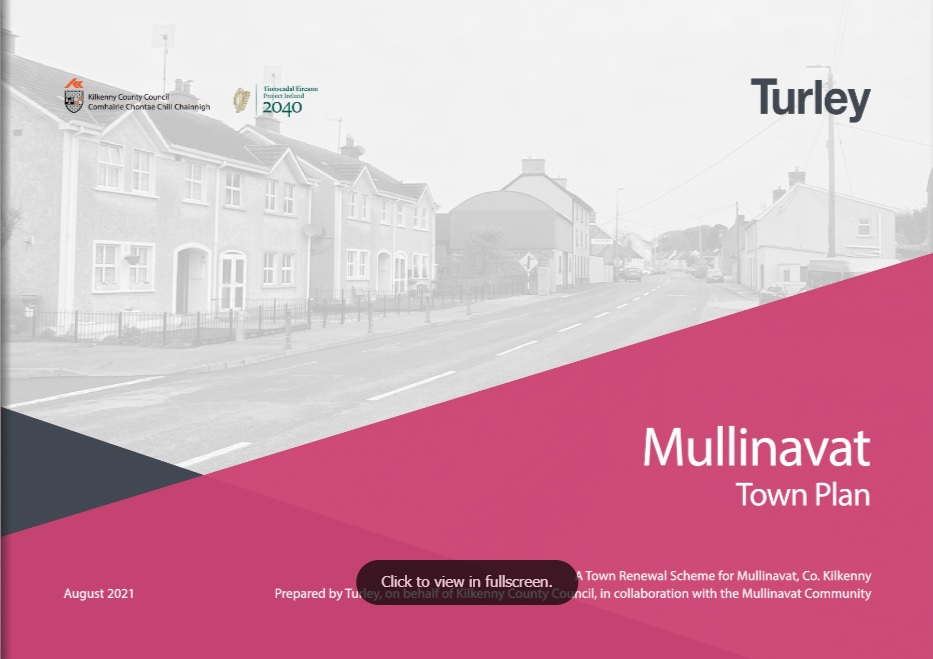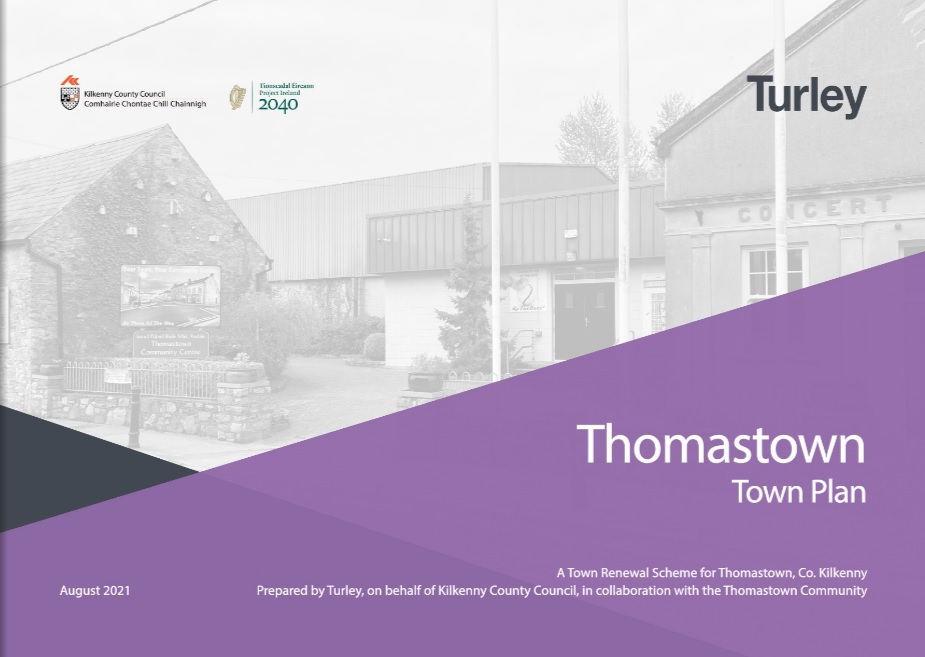 https://multimedia.kilkennycoco.ie/2021/townplans/
Callan Town Improvement Plan
Please see the first/pilot Town Team Plan that focuses on Callan.
Kilkenny County Council selected Callan to pilot the "Framework for Town Centre Renewal" published by the Minister for Jobs, Enterprise and Conservation,Heather Humphries in 2016.The Council identified Callan as a priority location due to the severe decline in its economy and the dereliction in Mill Street and Bridge Street. Over the last five years Kilkenny County Council have had a key focus on addressing these issues through the targeting of investment and the development of proposals that are adding to the regeneration of Callan.
The Callan Town Improvement Plan and the Callan Health Check report are now available on Kilkenny County Councils website here Callan Health Check Report.pdf (size 2.7 MB) & Draft Callan Town Improvement Plan.pdf (size 1.5 MB)
National Policy
Our Rural Future and Town Centre First Policies.
Our Rural Future
Our Rural Future, Rural Development Policy 2021-2025 represents the Irish Government's blueprint for the development of rural Ireland, with a particular focus on the next 5 years.
 This rural development policy sets out a long-term vision for a vibrant and sustainable rural Ireland.
 Click on the link and thumbnail below to view the Our Rural Future Policy Document.
https://www.gov.ie/en/publication/4c236-our-rural-future-vision-and-policy-context/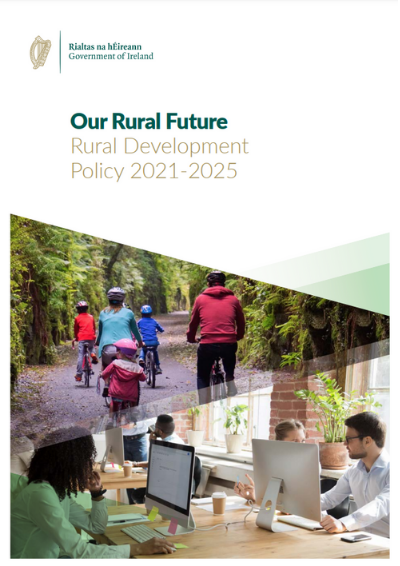 Town Centre First
The Town Centre First policy aims to create town centres that function as viable, vibrant and attractive locations for people to live, work and visit, while also functioning as the service, social, cultural and recreational hub for the local community.
 Irish towns are facing significant challenges and opportunities that require a coordinated and comprehensive response. This Town Centre First policy will facilitate that response by towns of all sizes across the country so that their centres can function as the sustainable and vibrant heart of the communities they serve, in ways that are adaptable and appropriate to 21st Century needs.
Click on the link and thumbnail below to view the Town Centre First Policy Document.
https://www.gov.ie/en/publication/473d3-town-centre-first-policy/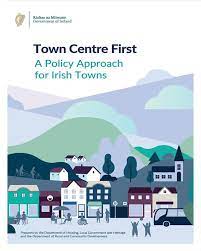 Town & Village Renewal Project Videos
Please see some videos here that showcase a sample of types of projects completed both under the Town & Village Renewal Scheme and Rural Regeneration Development Fund.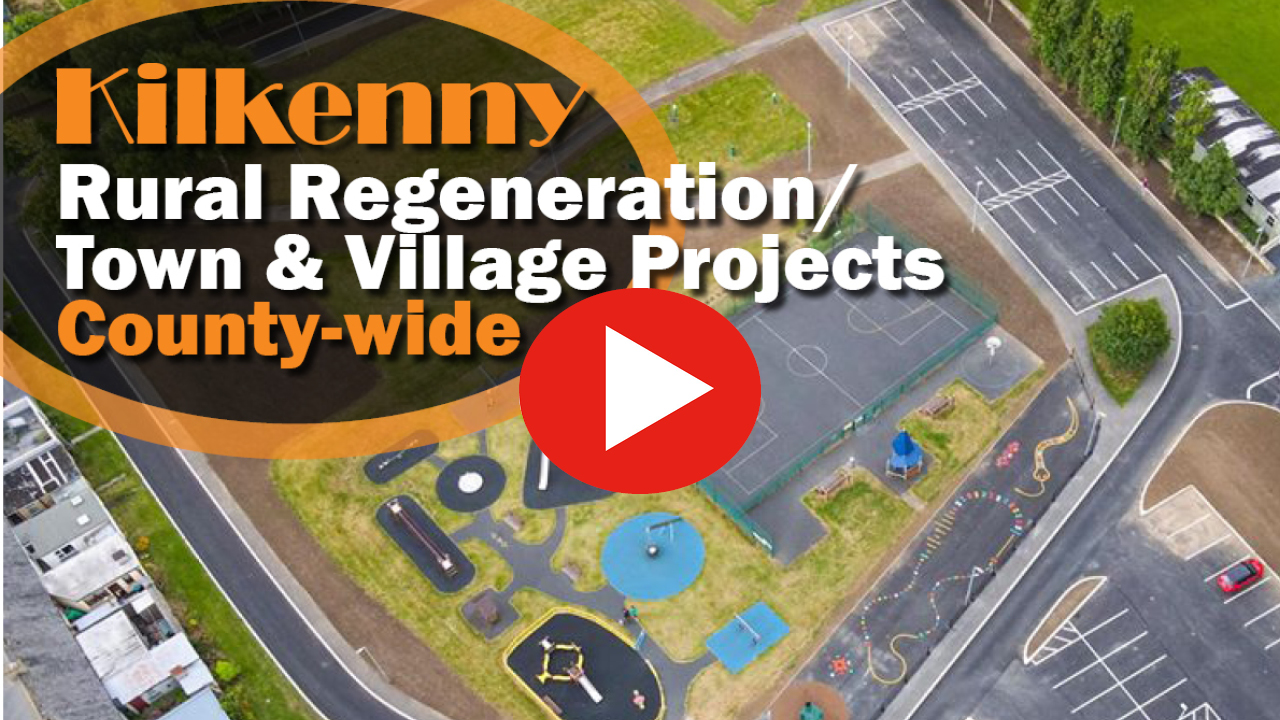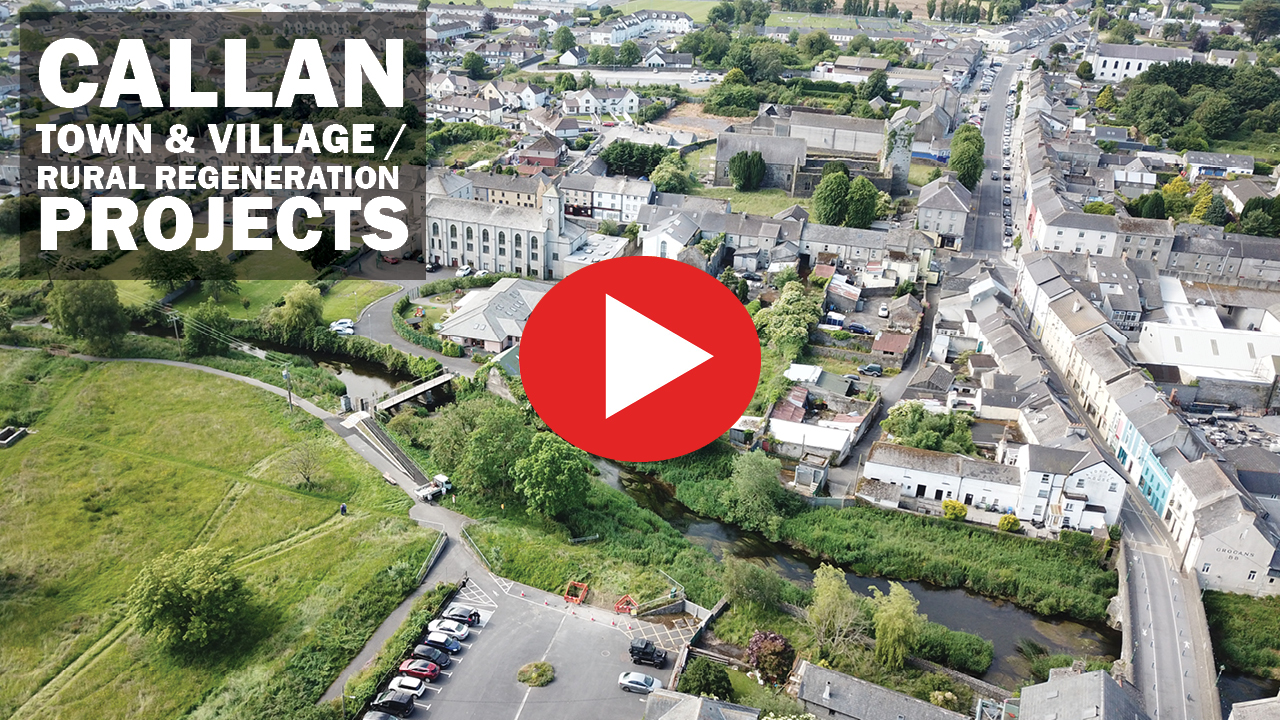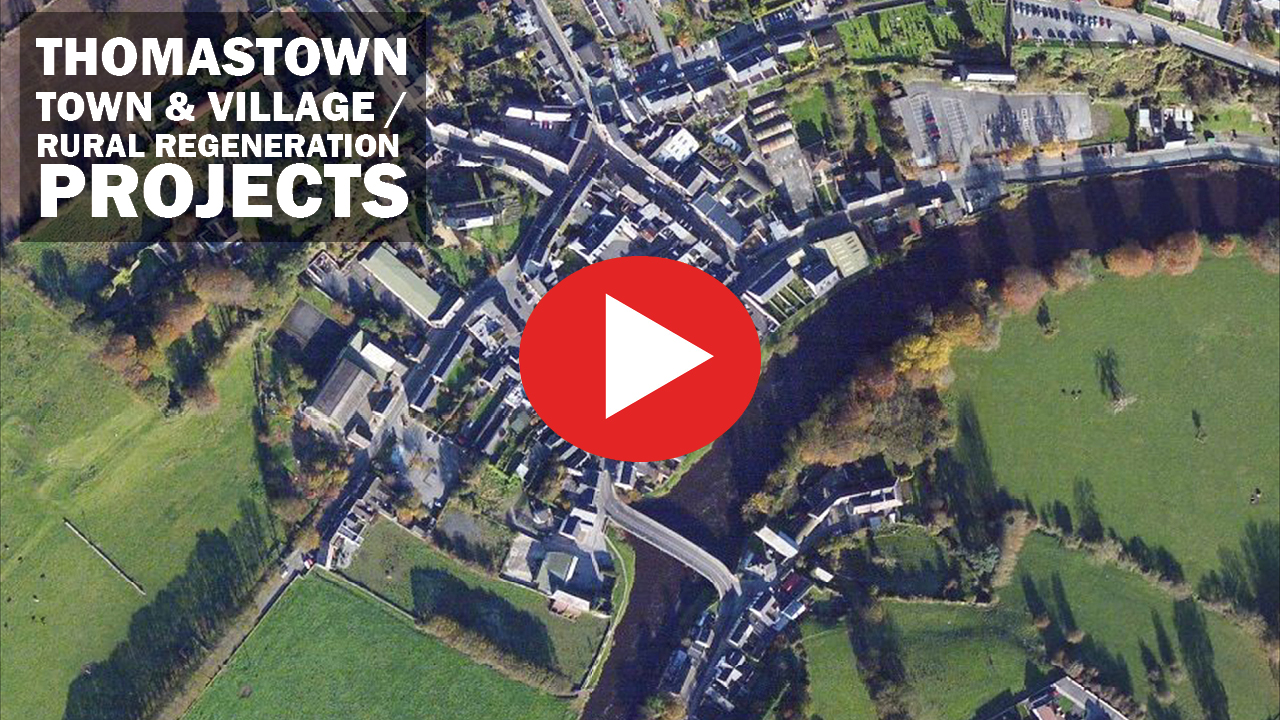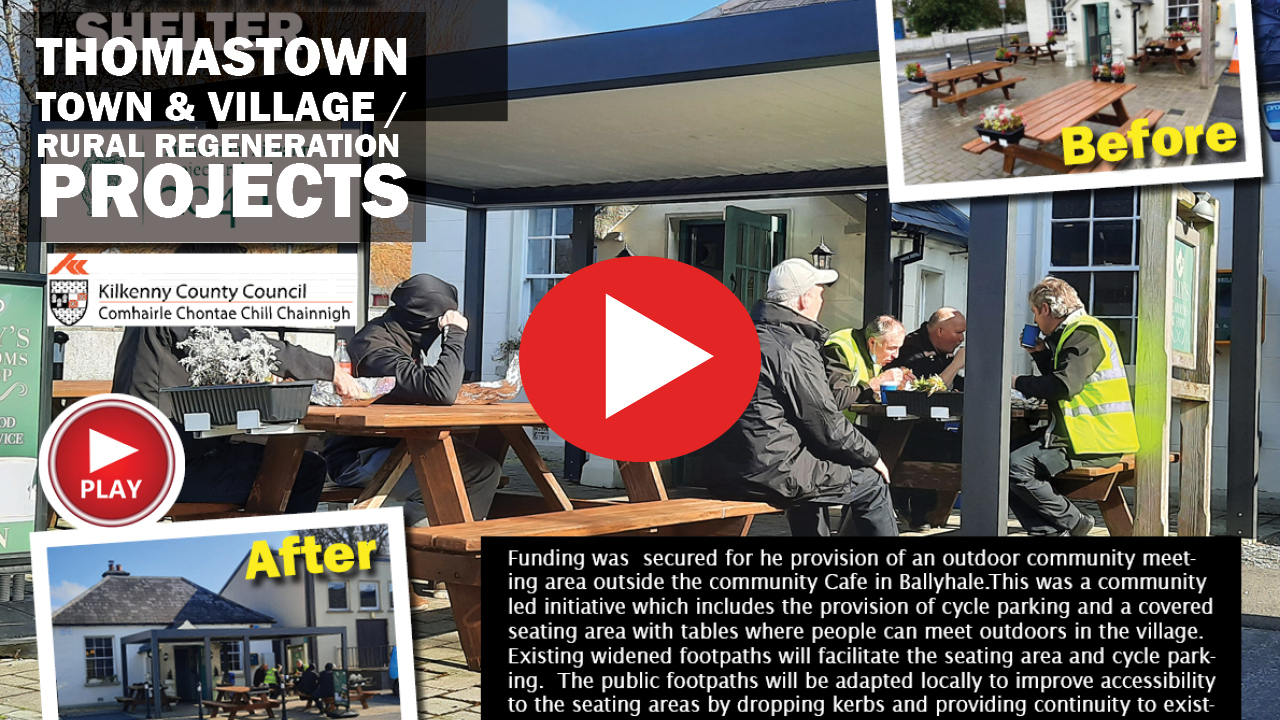 Video - Town & Village Renewal (Case Study)
Click on the image above to see the documentary that showcases where the local  community in Thomastown came together to develop with Kilkenny Country Council and the Town & Village Renewal Scheme a state of the art recreational amenity located in the centre of the town. To celebrate the first year of the opening of the hugely successful amenity the local community in partnership with a number of stakeholders hosted the largest Outdoor Basketball Exhibition match where huge crowds came to enjoy.
Funding
Town and Village Renewal and Rural Regeneration funding is announced annually where Kilkenny County Council will put out a call for expressions of interest for Town and Village Renewal Funding. Other funding sources are also available through various other Kilkenny County Council Departments to community groups and Town Teams.Kilkenny County Council has developed an interactive grant booklet that summarises these and other funding programmes and provides links to the relevant grant application forms and contact details. Click on the cover image below or link here to open an interactive version of the 2022 Grants Booklet. 
Please note that this interactive version works with any modern web browser (Firefox, Chrome, Safari, Brave, Opera etc) but does not work with Internet Explorer.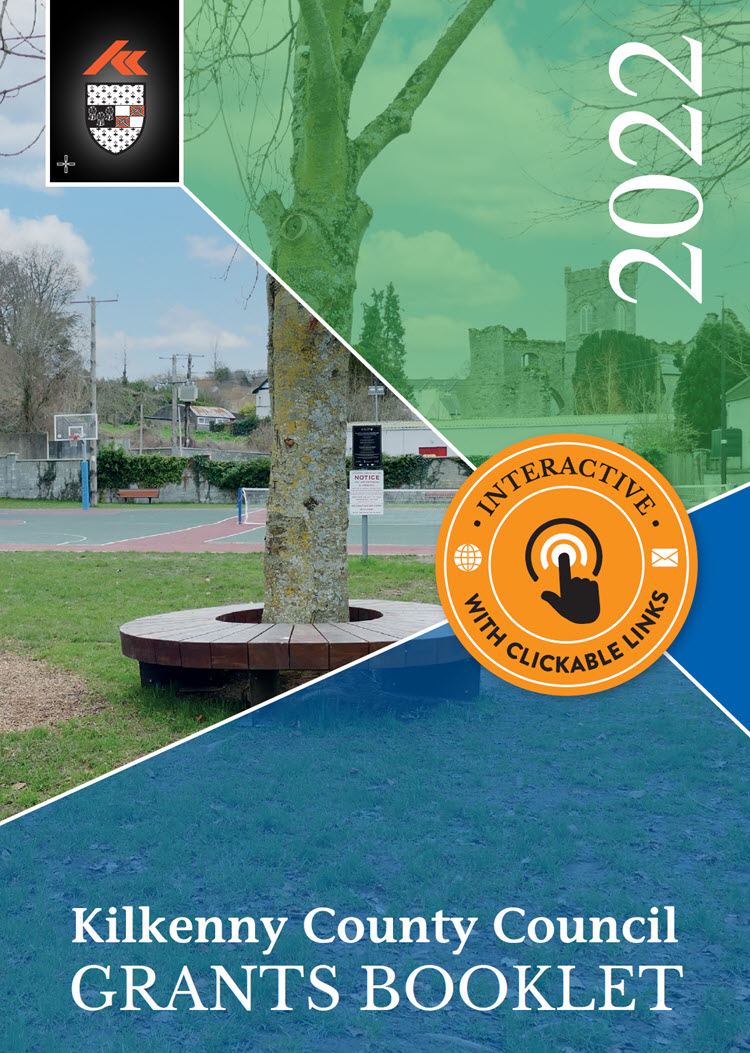 Click on the image above to access the Grants Booklet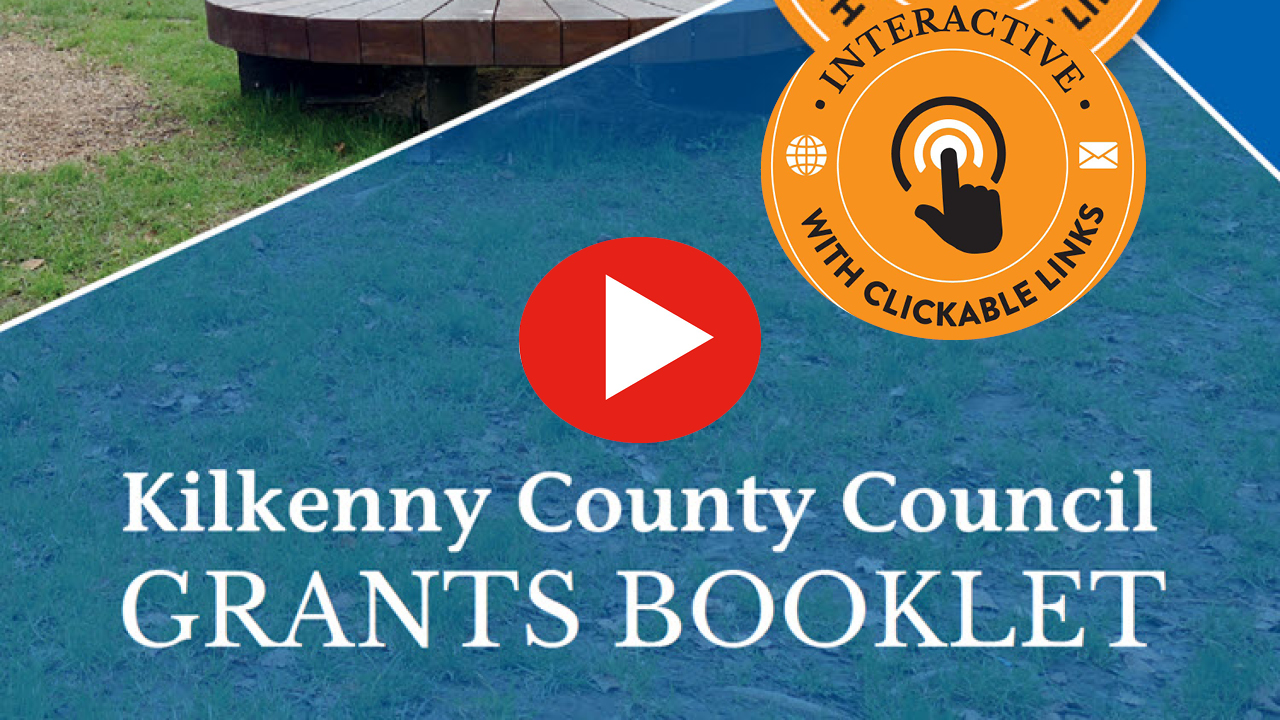 Click on the video above to see how to navigate the on-line grants booklet.