Fire Safety - Smoke Alarm Facts
Most fires start at night and the real killer is smoke. If you are asleep and you do not have a smoke alarm to wake you up, your chances of survival are virtually zero.  Smoke alarms are cheap, easy to install and give you vital extra time to escape.
A basic smoke alarm costs as little as €15.
You can buy Smoke Alarms in most high street stores, DIY or electrical shops.
Fit them on every floor level in your home, where you can hear them clearly throughout.
Good places are at the top of the stairway, hallways, corridors or landings.
Do not fit smoke alarms next to cooking areas or near bathrooms, where smoke or steam can set them off accidentally.
Check the batteries weekly by pushing the test button until the alarm sounds.
Twice a year open the case and gently vacuum the inside using the soft-brush attachment to remove dust from the sensors. If it doesn't open, vacuum through the holes.
If you do not have a 10-year alarm, replace the batteries once a year.
After 10 years - it's best to buy a completely new smoke alarm.
Remember- beeping alarms can be a sign that the battery needs replacing.
Don't Take Risks!
Get Out, Call the Fire Rescue Service Out, Stay Out!
There is no such thing as a safe fire.  It's better for you to prevent fire than to fight  --------------------------------------------------------------------------------
SMOKE ALARMS – KNOW THE FACTS!
--------------------------------------------------------------------------------
Cut out this information for future reference.
Almost every week someone dies in a fire because they did not have a working smoke alarm.
While most homes now have smoke alarms, many are unable to do their job properly due to flat or missing batteries. The message from Kilkenny Fire Authority is simple:
Check the batteries once a week.
Consider buying a 10-year alarm; otherwise change the batteries every year.
Remember- 'Push the Button! Not your Luck'.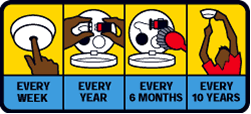 it.  Tackling fire is a job best left to professional firefighters.  Visit our website athttp://www.fire.kilkennycoco.iefor further information on smoke alarms and general advice on fire safety in the home.
This checklist review has been compiled by Killian John Hennessy, Senior Fire Officer, Kilkenny County Council Fire & Rescue Service.