Capt. Corrigan Becomes Fire Chief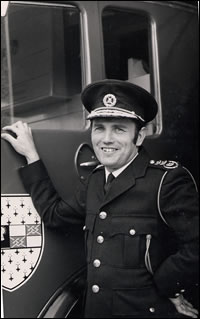 Captain Corrigan
In 1962 Captain Hugh Corrigan took up position as Chief Fire Officer for Kilkenny City and County fire service. One of the first things he did was to purchase new water tenders for outside stations. He also increased the number of crewmen from 5 to 8. The first water tender was delivered to Thomastown in 1965. It's licence plate number was LIP 200. This water tender carried 250C gallons of water and a 350 gpm pump. This engine also carried the new portable pump which was stored in a locker. These F.W.P.'s (feather weight pumps) meant that the engine didn't have to tow the large portable pump mounted on a trailer, i.e. trailer pump.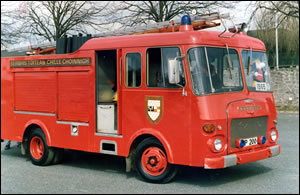 The LIP 200 on reserve duty in Kilkenny City
In 1967 Jack Lonergan was appointed 2nd Officer in Kilkenny City. In 1968 D. Murphy (Station Officer) and Joe Duffy (Sub Officer) retired. Jack Kennedy was then appointed Station Officer and Jack Murphy appointed Sub Officer. Joe Walton took over the job of Sub Officer at the sudden death of Barry Dolan in late 1968.
In 1969 Kilkenny city and the surrounding areas were plagued by a fire-bug. This person set fire to haybarns, hedges, fields of corn and other property. These fires lasted from July to September. The person responsible was never caught.