New laptop borrowing service at Urlingford Library
Kilkenny County Council Library service, in partnership with Urlingford Town Team and Urlingford on the Move, is pleased to announce the introduction of a new laptop borrowing service for library members at Urlingford library.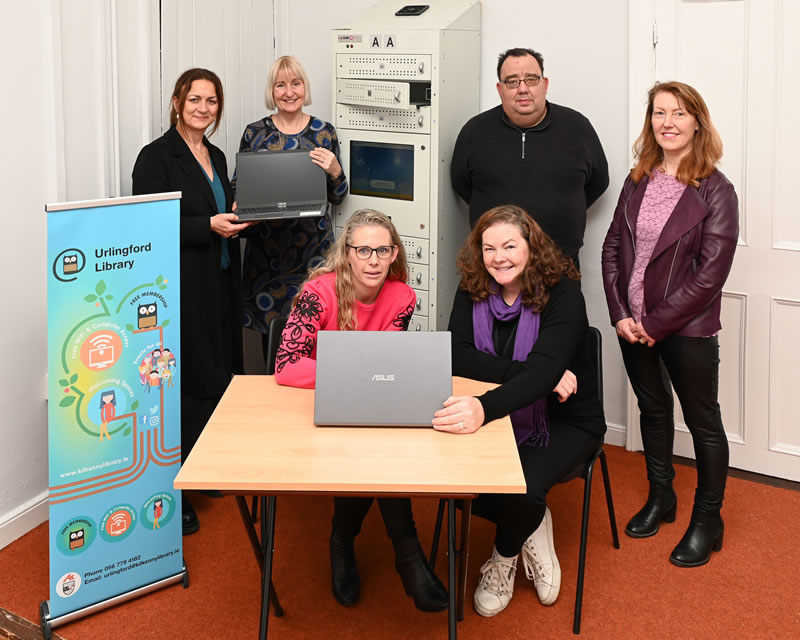 Laptops will be borrowable for use onsite in the library by adults, young adults and under 12's with adult supervision. Your library card and PIN will be required to borrow one of the eight laptops from the Lap Safe unit. This service is available for individual and group use - allowing, for example, students access them for homework or group classes to be run.
Laptops are equipped with Microsoft suite and Internet browsers. When borrowed they connect automatically to the library Wi-Fi allowing borrowers access the internet and print using the library Wi-Fi printing service. Library membership is FREE for all, while there is a nominal charge for printouts.
 "We are looking forward to offering this new service in Urlingford library in partnership with Urlingford Town Team and Urlingford on the Move. It will further the role of the library as a digital equity hub", said County Librarian, Josephine Coyne.
 "We are very appreciative for the funding we received from Kilkenny LCDC to roll out this service",says Fiona Joyce, Urlingford Town Team Chairperson."This project sits perfectly with the inclusion pillar of the Town Team vision and complements our work on developing a Remote Working Hub in the old Bank of Ireland." Urlingford was shortlisted for a Digital Rising Star award from .IE, providers of Ireland's domain name, for this project.
The laptop borrowing service will be available from Thursday 24th November, and library staff will host a drop-in day from 3.30pm on Tuesday 29th November, so pop in on the day, and you can see how it works.
Urlingford Town Team in partnership with Urlingford on the Move applied for funding, which came through Kilkenny LCDC, from the Department of Rural and Community Development Community Activities Fund, under the Community Enhancement Programme. More information is available from urlingfordtt.com.