Connected Communities Broadband Connection Points Launch at Glenmore
The official launch of Connected Communities Broadband Connection Points in the Community Centre in Glenmore, Co. Kilkenny.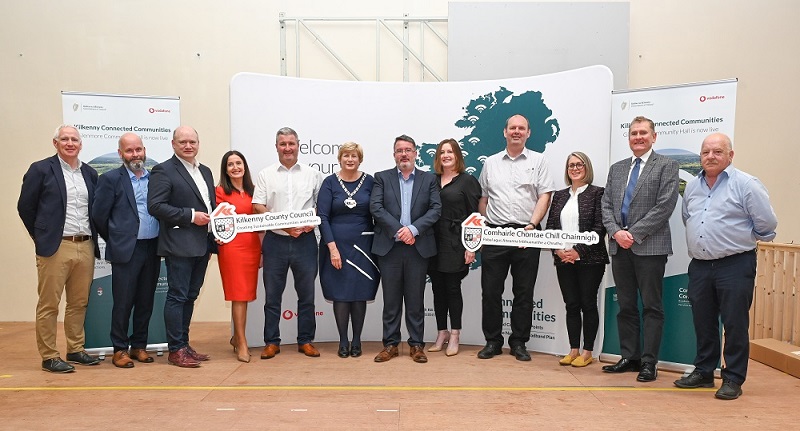 On Wednesday last, 15th June, Kilkenny County Council in partnership with the Department of Rural and Community Development, the Department of Environment, Climate and Communications, National Broadband Ireland and Vodafone officially launched connected communities broadband connection points in the Community Centre in Glenmore, Co. Kilkenny.
The BCPs are a key part of the National Broadband Plan and is an initiative to provide free high-speed internet access at public accessible sites like Community Centres for remote working, study, community/digital skills training and a host of other digitally enabled services and amenities.
At present 6 BCPs are now live in County Kilkenny with a further 2 to follow in Crosspatrick Community Hall and Muckalee Community Centre once building expansion works are completed.
Speaking at the launch, Cathaoirleach of Kilkenny County Council and a native of Glenmore Cllr. Fidelis Doherty said:
High speed broadband and the development of the BCP network is crucial in embedding digital skills within small rural communities across County Kilkenny and this launch here today is an important step in having Kilkenny fully connected under the National Broadband Plan. As Connected Communities evolve and grow in Kilkenny, it will provide an opportunity to transform the economic and social fabric of rural towns and communities across the County."
Heather Humphreys T.D., Minister for Rural and Community Development said
I want to congratulate Kilkenny on the launch of their BCP network as part of the Connected Communities Initiative.

Connected Communities will unlock the potential in rural communities, transforming the lives of its residents.

Whether that is connected working, the creative arts, eHealth or educational supports, the BCPs will be supported to provide the services that their communities need.

These premises are not merely a stop-gap measure ahead of the arrival of the National Broadband Plan, it is our hope that they will instead become long-term community assets, fixtures of their communities, providing next generation services to Ireland's rural heartlands."
NBI Statement
Peter Hendrick, Chief Executive Officer at National Broadband Ireland, commented:
NBI is proud to be empowering the Broadband Connection Points programme by installing community facilities with essential access to free high-speed internet access.  This new connection in County Kilkenny will have huge benefits for the community. As our teams continue to make tremendous progress with our Fibre-to-the-Home rollout to bring high-speed broadband to every home, farm, business and school in the Intervention Area, Broadband Connection Points pave the way for the wider rollout of the National Broadband Plan, and this is significant step forward for south Kilkenny and the wider region."
Vodafone Statement
Shelah McMahon, Head of Public Sector Sales, Vodafone Ireland said,
Vodafone is proud to partner with Government and NBI on Connected Communities, providing best in class WiFi to rural communities across Ireland. I am delighted to see the launch of Kilkenny Connected Communities today, bringing high-speed internet access to public broadband connection points across the county. These Connected Communities will help Kilkenny embrace the benefits of a digital society by giving people living in these areas the opportunity to work, study and connect remotely. Connected Communities around the country are providing an opportunity to transform the economic and social fabric of rural towns and communities by addressing the digital divide, improving lives, creating jobs and stimulating rural economic growth"
For more information contact Steve Coverdale, Broadband Officer, Kilkenny County Council.
Email: broadbandofficer@kilkennycoco.ie .
Phone: 086 6189841
or visit https://nbi.ie/broadband-connection-points/