Uncle Bens Spicy Firefighters, December 2007
SPICY FIREFIGHTERS ARE REALLY HOT STUFF
Fire and Rescue Service put their culinary talents to the test to claim title as master chefs.
Firefighters in Kilkenny are hot stuff and that's official.
Pictures courtesy of Dylan Vaughan, www.dylanvaughan.com
The Kilkenny Fire and Rescue Service has been announced overall national winner of the Uncle Ben's Chilli Heats for Charity Campaign.
Kilkenny's firemen claimed the title as master chefs when they swapped their fireman helmets for chef hats and put their culinary talents to the test for Asthma Care Ireland, www.asthmacare.ie.
In the nationwide contest sponsored by Uncle Ben's Chilli Sauce, Asthma Care Ireland received €15,000 overall following the Chilli Heats for Charity.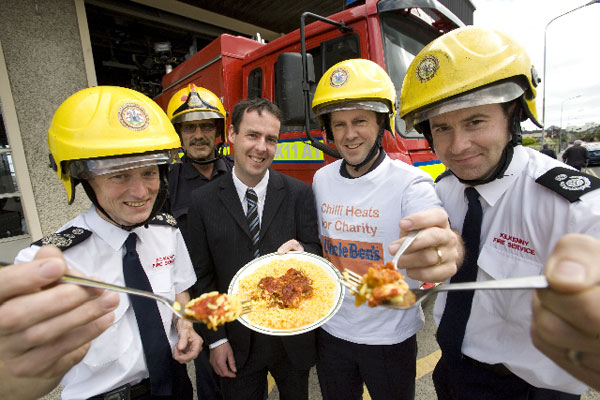 The recipe that won Kilkenny firefighters the overall title is:
KILKENNY FIRE SERVICE
ORIGINAL CHILLI CON CARNE RECIPE
Ingredients:
900g Uncle Ben's medium chilli sauce
2 x 410g cans of red kidney beans
2 lb. 4 oz. braising steak
4 tbsp vegetable oil
2 onions chopped
2 tbsp dark muscovado sugar
600 ml/1 pint beef or chicken stock
salt and freshly ground black pepper
1 tbsp of Crème Fraiche
1 handful of dried fruit
2 glasses red wine
5 crushed cloves of Garlic

Method:
Drain the beans, tip into a pan and cover with fresh water. Bring to the boil rapidly for ten minutes. Cut meat into small cubes, discarding any excess fat. Season with salt and pepper.
Heat half the oil in a large, heavy-based saucepan or sauté pan until very hot. Fry half the meat, for about 10 minutes or until well browned. Repeat with the remaining oil and meat.
Add the onions and crushed garlic to the pan with the chilli sauce and sugar and fry very gently for 8 - 10 minutes until deep golden and caramelised. Return the meat to the pan with tomatoes, stock, dried fruit, and red kidney beans.
Bring to the boil. Reduce the heat and simmer, on the lowest setting, for two hours until the meat is meltingly tender. Add red wine just as the Chilli Con Carne is thickening. Check the seasoning and serve with ingredients of your choice.